Hop onto your very own Matrix chat with ease 💬
Matrix is an E2E-encrypted, federated chat platform integrated with other messengers.
Chat with family, friends, coworkers or any community on Matrix - your vendor-independent alternative to:
Slack, Discord, Microsoft Teams, (Facebook) Messenger, Telegram, Signal, (Facebook) Whatsapp,
Who is Matrix for?
People
🖐️ tired of all the different messenger apps

One Matrix app lets you talk on multiple chat networks.

🔏 worrying about personal data and privacy

With E2E-encryption and a server you control, your data is all yours.

🔑 wishing for a secure and encrypted chat under their control

Tired of being censored? Or of seeing ads for things you talk about?
Organizations (companies & communities)
🔑 demanding secure internal chat and being in control

We can provide a VPS server for you or set Matrix up on your own infra.

🌐 wishing to reach clients on multiple platforms

You can have a helpdesk service spanning multiple chat networks.

🤖 building chatbots for multiple messengers

With bridges, one Matrix bot can service multiple chat networks.
Our hosting service is also helpful to people (and organizations) who can self-host Matrix themselves, but prefer not to waste the time & effort to do that.
These large communities already use Matrix: Mozilla, KDE, GNOME, Reidel Law Firm. See case studies of organizations
Why choose to host Matrix with etke.cc?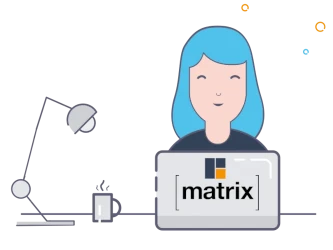 We're in the Europe and offer international Matrix hosting with fair conditions, on servers rented from us (we use Hetzner Cloud) or on your own servers anywhere in the world.
We've installed 175+ Matrix servers.
⏳ We save you time

We spare you the need to self-host Matrix and its many related components.

💵 We charge fairly

We don't charge per-user, but per deployment complexity & server size.

🔥 We offer a lot Matrix extras

📖 We develop in the open

Like Matrix itself, all of

our technology

is completely FOSS.

You can easily

extend it or make new integrations

.

🏡 We encourage ownership

We provide VPS, but can also host on a server owned by you (or rented from a VPS provider you like)

🔓 We don't lock you in

If you ever become unhappy with our service, you can always host your server elsehwere or start maintaining it yourself.
What benefits do I get?
🖥️ Matrix hosting on a server type of your choice

We can set up and maintain Matrix for you either on your own server (on any provider or on your own infrastructure), or on VPS servers provided by us.

✅ A full Matrix chat server stack

With audio/video support and all the other bells and whistles.

🌐 Being part of a global chat network

Reach millions of people on other Matrix servers via federation.

💬 A beautiful chat webapp of your choice

🔒 E2E encryption

Chats are encrypted. No one can read them, not even the server admin.
🧑‍🔬 Support & Consulting

Our team has experience hosting hundreds of Matrix servers.

Reach out to us

for any questions or troubles.

Sleep peacefully knowing we're there to apply security updates for you.

🛡️ Server backups

If anything ever goes wrong, you can always restore your server.

Easily bridge to Facebook, Slack, Discord and many other networks.

Prometheus monitoring, Jitsi, Single-Sign-On, email/website hosting, etc.
Case Studies
Order
We can setup and configure Matrix homeserver and components on your own VPS/VM/bare metal server/old laptop in the corner of your room (literally).
How does that setup work?

We discuss with you what exactly you want to receive, including bridge-specific config options
You provide us SSH access to a server that will be used for matrix homeserver, our public key: https://etke.cc/ssh.key
We configure your server and your Matrix homeserver
We send you matrix homeserver's admin credentials (change your password) and links, notices, etc. for later usage
We invite you to the updates room , where we inform you with news and updates about components, used by the matrix homeserver stack
Even a domain is not required. We provide you a subdomain, with a Hetzner VPS of your choice, Migadu Email Service for your domain/subdomain, and setup the matrix server.
How does the turnkey setup work?

We discuss with you what exactly you want to receive, including bridge-specific config options
You subscribe to one of the Turnkey membership options
(Your domain) We send you two lists of DNS entries (one for matrix, the second one for email)
(Your domain) You set the entries in your domain management dashboard
We invite you to the updates room with news and updates about components, used by the matrix homeserver stack
We send you an onboarding list with all links, credentials, and notes